Through Prayer and Praise
While the social distancing regulations in response to the Covid-19 pandemic does not allow us to gather as a congregation all in one spot, we are still able to worship together in this digital age online.

Every Sunday at 10am, we will be live-streaming our worship service. We invite you to click on the button either below or at the top of your screen that says "Watch Live".
We also offer the following resources to go along with the worship service (please note that only the most recent weeks' bulletin will be here):


Current Sermon Series: Again & Again
Led by Dr. David Galant, the Trinity Choir provides special music and leadership during worship services. Rehearsals are Wednesdays at 6pm for one hour and include devotions, rehearsal and prayer. All ages, talents and abilities are welcome to join us!
The Praise Team helps to lead worship each Sunday through the sharing of their gift of music.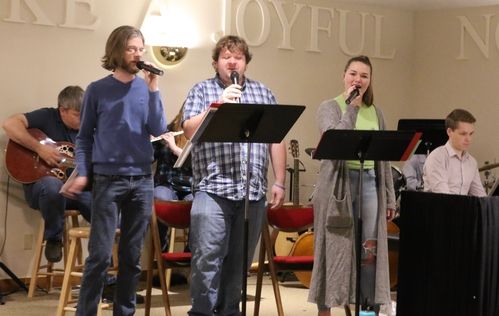 Diving deeper into our faith
We share these devotionals written by members of Trinity Ralston that they may provide an additional way you can worship the Lord.
Rev. Tessa Zehring has her own blog where she will share not only devotionals, but her thoughts on a range of topics.
A message from Bishop Ruben Saenz, Jr.
Although we cannot yet physically meet together as churches of the Great Plains Conference, we can meet together in prayer. I ask that you pray the Lord's Prayer at noon until all gathering restrictions are lifted in the United States, and we can meet together again as churches. This act of solidarity will keep us prayerfully connected. It takes less than 30 seconds to pray the Lord's Prayer, but doing so will unite us with Christ, with each other, and it will change the world.
We'd love to hear from you. Fill out the form below to get started.